Administrating Miracles CD/MP3
00007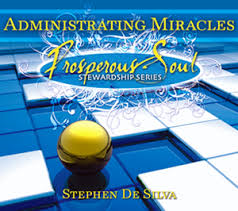 If you are a Senior Leader, CFO, administrator, or simply one who is interested in a behind-the-scenes look at how financial decisions are made at the heart of a revival center, this message is for you. Stephen De Silva shares his heart in an honest and transparent manner as to what it looks like to serve in the fast-paced environment of Bethel Church. Under the visionary leadership of Bill Johnson, Kris Vallotton and Danny Silk, Stephen presents the real story of what happens when heaven touches earth.
Stephen inspires the listener to avoid separating activities between sacred and secular. Excellence and perfectionism, honoring our leaders, and being true to the ancient boundaries individually written upon our hearts are some of the essential tools for serving in revival. Embedded within this message are powerful prayers designed to bring deliverance and freedom to the listener, ending with a powerful commission for anyone who wishes to host the Kingdom of Heaven on earth.
Get ready to be Administrating Miracles!
This teaching is available as a MP3 download.
Please be aware of the limitations on mobile devices;
For Android users you can download the files straight to a tablet or phone. After downloading start your music app and the files should appear very quickly. You may need to run a 'database update' or 'rescan' to make the files appear but they normally will appear by themselves after a few minutes.
For Apple users you will need to use iTunes to load the files on to your phone or tablet. This is an Apple limitation and we can not provide a work around. For details on how to load MP3 files on to your phone or tablet. Please go here for detailed instructions.


Please note that we can not provide detailed technical support for Apple downloads but will help as much as we can !
Media
CD (+ £2.00 for postage and packing) (2) MP3 Download - please see instructions in product description (0)