Believe in Miracles
00056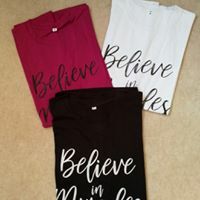 Believe in Miracles T shirts with a rounded or straight bottom are walking billboards for Christ. Every t shirt has been prayed over to release miracles, signs and wonders as they are worn.
These t shirts can be ordered with Celebrate supernatural school website on the back or without. Please make sure you order your preference
This design comes in Black, White or Pink
The t shirts have been made by a group women from Guatemala who have been given a hope and a future by been given work that provides from their family, thereby saving them from poverty.
Believe in Miracles t shirt
Black straight bottom crew neck - blank back small (15) Black rounded bottom v neck - blank back large (15) Black rounded bottom v neck - blank back x large (15) Black rounded bottom v neck - blank back xx large (15) White rounded bottom crew neck - blank back medium (15) Pink rounded bottom v neck - blank back medium (15) Pink rounded bottom v neck - blank back Large (15) Pink rounded bottom v neck - blank back X large (15) Pink rounded bottom v neck - blank back XX large (15) Black rounded bottom v neck CSSM website on back large (15) Black rounded bottom v neck CSSM website on back X Large (15) Black rounded bottom v neck CSSM website on back XX large (15) Pink rounded bottom v neck CSSM website on back large (15) Pink rounded bottom v neck CSSM website on back X large (0) Pink rounded bottom v neck CSSM website on back XX large (0)