Financial Sozo Audio teaching MP3
00009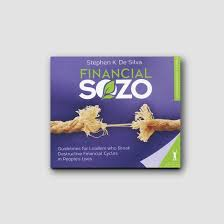 Financial Sozo is a tool designed for leaders and Sozo ministers who want to delve deeper into the important area of financial deliverance. Building on the work of the Sozo ministry, Stephen De Silva explains what is going on "behind the scenes" in his popular class Prosperous Soul Foundations Course.
Learn about Stephen's four-step process, what a Financial Sozo is, discover the three spheres of poverty, and access the secrets of today's Kingdom economy. Five case studies demonstrate the financial Sozo methodology to lend insight in applying the lessons shared.
Finally, Stephen offers three key observations from his years as a financial deliverance minister that will prove to be powerful weapons in every leader's toolbox. This manual, combined with Stephen's Sozo team training (available in audio format), sheds new light on the old problem of overcoming crippling financial patterns in the lives of those God sets before us.
This teaching is available as a MP3 download.
Please be aware of the limitations on mobile devices;
For Android users you can download the files straight to a tablet or phone. After downloading start your music app and the files should appear very quickly. You may need to run a 'database update' or 'rescan' to make the files appear but they normally will appear by themselves after a few minutes.
For Apple users you will need to use iTunes to load the files on to your phone or tablet. This is an Apple limitation and we can not provide a work around. For details on how to load MP3 files on to your phone or tablet. Please go here for detailed instructions.

Cd/MP3
MP3 Download - please see instructions in product description (0) CD (+ £2.00 for postage and packing) (3)