Praying it forward CD/MP3
00019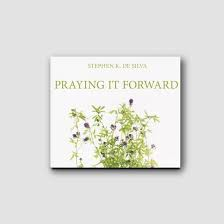 Defeat worry by learning the secret of walking in fields grown rich in prayer.

In this message, Stephen De Silva, author and former CFO of Bethel Church, shares an inspired lesson on raising our eyes of faith and sowing prayer like seed into tomorrow's reality. Hear how Bethel's financial pastor learned to thrive in the tension of a supernatural lifestyle.

This teaching is available as a MP3 download.
Please be aware of the limitations on mobile devices;
For Android users you can download the files straight to a tablet or phone. After downloading start your music app and the files should appear very quickly. You may need to run a 'database update' or 'rescan' to make the files appear but they normally will appear by themselves after a few minutes.
For Apple users you will need to use iTunes to load the files on to your phone or tablet. This is an Apple limitation and we can not provide a work around. For details on how to load MP3 files on to your phone or tablet. Please go here for detailed instructions.


Please note that we can not provide detailed technical support for Apple downloads but will help as much as we can !
CD/MP3
MP3 Download - please see instructions in product description (0) CD (+ £2.00 for postage and packing) (0)