Prosperous soul foundation set MP3
00012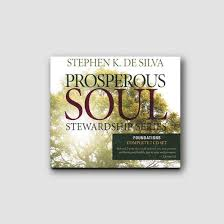 When it comes to money, why does it seem as if we're always one step behind? The answer, says Stephen K. De Silva, former chief financial officer of Bethel Church in Redding, California, is not just about how you handle what's in your bank account. It's also spiritual. In a warm, conversational style, Stephen combines practical financial teaching with sound biblical truth. As you uncover the root spiritual issues behind money problems, you will see how financial and spiritual success starts with a soul centered on God. Discover the supernatural keys to breaking free from destructive financial cycles. Don't wait. Start living a truly prosperous life right now.
This message, has been thoroughly tested over the past 15 years bringing financial healing and breakthrough for people across the globe.
This teaching is available as a MP3 download.
Please be aware of the limitations on mobile devices;
For Android users you can download the files straight to a tablet or phone. After downloading start your music app and the files should appear very quickly. You may need to run a 'database update' or 'rescan' to make the files appear but they normally will appear by themselves after a few minutes.
For Apple users you will need to use iTunes to load the files on to your phone or tablet. This is an Apple limitation and we can not provide a work around. For details on how to load MP3 files on to your phone or tablet. Please go here for detailed instructions.


Please note that we can not provide detailed technical support for Apple downloads but will help as much as we can !
CD/MP3
MP3 Download - please see instructions in product description (0) CD (+ £5.00 for postage and packing) (5)