Shirtless in my offering MP3/ CD
00013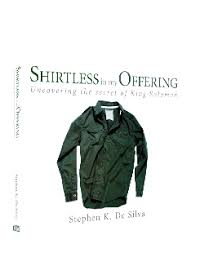 Uncovering the Secret of King Solomon
Hebrews 4:16 tells us to draw near with confidence to the throne of grace. What a great privilege we share listening to God's secrets! And in our busy lives, one can learn to grow in this promise. In this message, Stephen K. De Silva describes a vision where he finds himself in a majestic hallway. Dressed in rags, he explores a door that opens into a room so vast, he is left speechless. Here in God's throne room, Stephen returns time and again to sit before the King of Kings to learn His secrets. His first lesson is Solomon's offering: to stand shirtless before his Maker.
This teaching is available as a MP3 download.
Please be aware of the limitations on mobile devices;
For Android users you can download the files straight to a tablet or phone. After downloading start your music app and the files should appear very quickly. You may need to run a 'database update' or 'rescan' to make the files appear but they normally will appear by themselves after a few minutes.
For Apple users you will need to use iTunes to load the files on to your phone or tablet. This is an Apple limitation and we can not provide a work around. For details on how to load MP3 files on to your phone or tablet. Please go here for detailed instructions.


Please note that we can not provide detailed technical support for Apple downloads but will help as much as we can !
CD/MP3
MP3 Download - please see instructions in product description (0) CD (+ £2.00 for postage and packing) (2)