Smart money MP3/CD
00014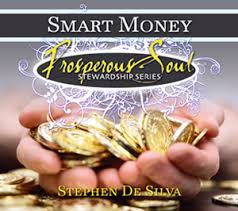 Money is an emotional topic, exposing our fears and measuring our failures. Many hope for a miracle but settle into a quiet desperation of inadequacy and fear when it comes to finances. Daily battles with budgets and bills are handed from generation to generation, yet these cycles need not become a legacy for ourselves or our children. The apostle John's prayer of hope (3 John 1:2) still hangs in heaven for our benefit as we pray and learn and act anew.
In this two-part series, Stephen reveals secrets held by the wealthy. Biblical truth and practical insights emerge from years of experience and financial counseling. You too can benefit from the lessons and secrets heard by hundreds of individuals before you; secrets of wealthy mindsets, the 2 rules of success, active and passive income streams, and co-laboring with Christ are only a few of the many tools shared.
This teaching is available as a MP3 download.
Please be aware of the limitations on mobile devices;
For Android users you can download the files straight to a tablet or phone. After downloading start your music app and the files should appear very quickly. You may need to run a 'database update' or 'rescan' to make the files appear but they normally will appear by themselves after a few minutes.
For Apple users you will need to use iTunes to load the files on to your phone or tablet. This is an Apple limitation and we can not provide a work around. For details on how to load MP3 files on to your phone or tablet. Please go here for detailed instructions.


Please note that we can not provide detailed technical support for Apple downloads but will help as much as we can !
CD/MP3
MP3 Download - please see instructions in product description (0) CD (+ £3.00 for postage and packing) (3)