World's tallest man CD/MP3
00015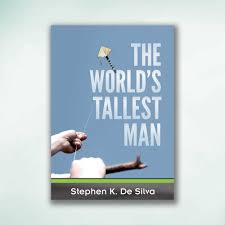 Often, our concept of favour looks like one person winning at the expense of another losing, but that is not the way of the kingdom. In God's economy, we're all invited to soar! In this message, Stephen embraces God's invitation to grow taller and soar higher. After all, we're all fit to fly. Will you?
This teaching is available as a MP3 download.
Please be aware of the limitations on mobile devices;
For Android users you can download the files straight to a tablet or phone. After downloading start your music app and the files should appear very quickly. You may need to run a 'database update' or 'rescan' to make the files appear but they normally will appear by themselves after a few minutes.
For Apple users you will need to use iTunes to load the files on to your phone or tablet. This is an Apple limitation and we can not provide a work around. For details on how to load MP3 files on to your phone or tablet. Please go here for detailed instructions.

Please note that we can not provide detailed technical support for Apple downloads but will help as much as we can !
CD/MP3
MP3 Download - please see instructions in product description (0) CD (+ £2.00 for postage and packing) (2)